NEVER JUDGE A BOOK
BY ITS COVER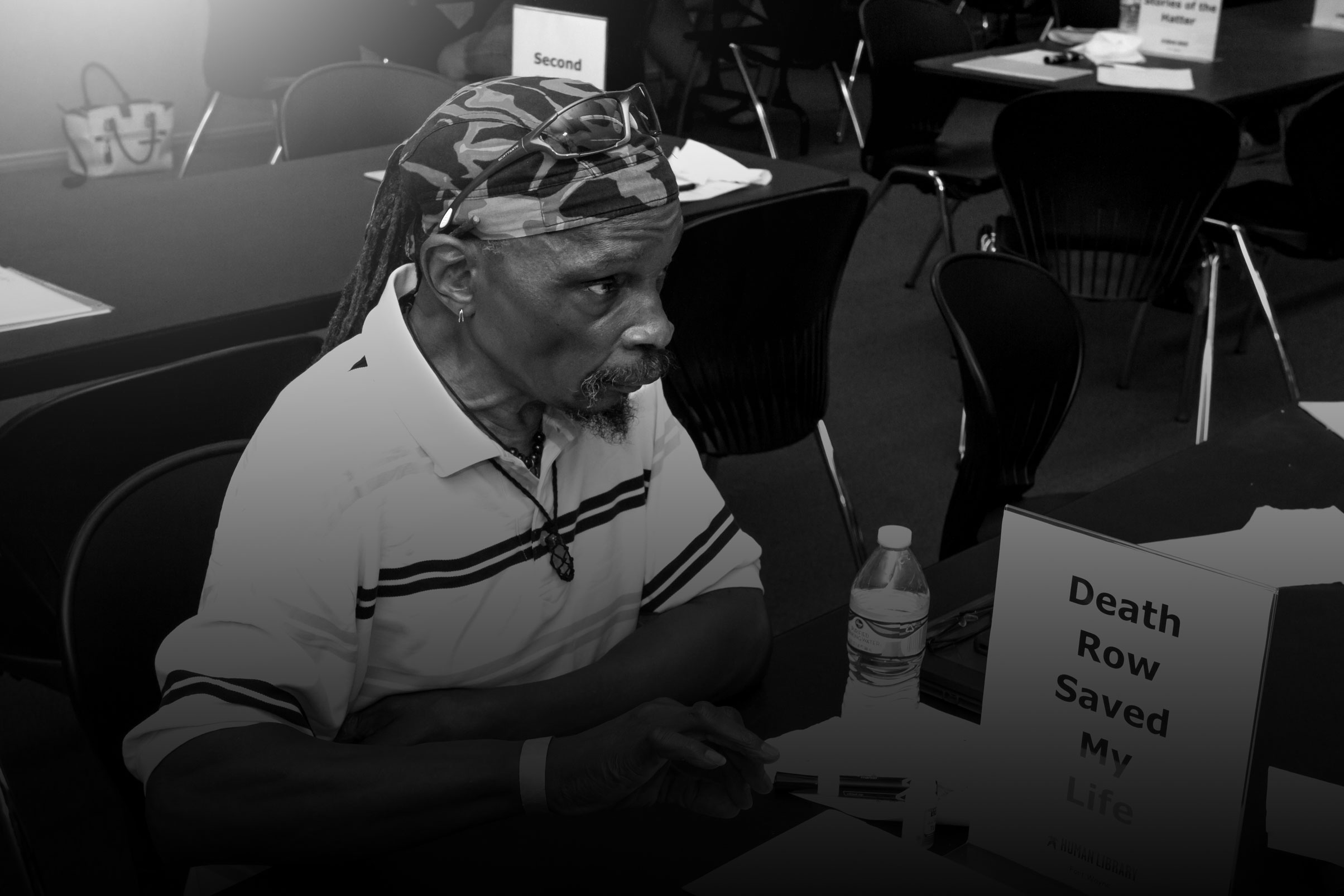 CHALLENGING STEREOTYPES
The Human Library™ is designed to build a positive framework for conversations that can challenge stereotypes and prejudices. It is a place where real people are on loan to readers. A place where difficult questions are expected, appreciated and answered.
ORIGIN OF THE HUMAN LIBRARY
The Human Library, or "Menneskebiblioteket" as it is called in Danish, was developed in Copenhagen in the spring of 2000 by brothers Ronni and Dani Abergel and their colleagues, Asma Mouna and Christoffer Erichsen. They believed that their community's struggles with violence and discrimination were partially the result of 'us and them' mentality.
And so they set out to bring 'us' and 'them' together to have open dialogue with one another, learning perspectives they otherwise would never know. The original event was open eight hours a day for four days straight and featured over fifty different human book titles.
The broad selection of books provided readers with ample choice to challenge their stereotypes and so they did. More than a thousand readers took advantage leaving books, librarians, organizers and readers stunned at its impact. Word has spread since that initial undertaking and Human Library has become a worldwide movement for social change with hundreds of events taking place annually on five continents. www.humanlibrary.org
FORT WAYNE
Human Library Fort Wayne believes that the same concept of the founding Human Library™ can be applied to our community. That is, the prejudices and stereotypes present in our community can be interrupted and dismantled by creating positive environments and a safe spaces for compassionate and open conversation. We have brought together a library of people from diverse walks of life who have faced challenge, stigma and/or discrimination as part of their life's story - real people who are eager to be 'on loan' to readers in their own community for a dialogue that challenges, moves and opens them to new understanding and perspectives.
The first Human Library Fort Wayne event took place in August 2018 and was a wonderful experience for all involved. Our hope is that Human Library Fort Wayne continues to grow in the years to come, cultivating a community of people who are even more understanding, aware and ultimately, more kind to one another.
MEET OUR EVENT COORDINATORS
NICOLE & ELLEN
Please meet Nicole and Ellen - the dedicated curators of Human Library Fort Wayne.
Nicole and Ellen met in the spring of 2017 while each was exploring ways to better serve their community as activists. In the beginning they were aware of their similarities - two women with a passion for serving Fort Wayne - but it was their differences that they promised not to ignore. They knew that if they were going to truly create honest, compassionate spaces for others in their community to share stories and to challenge perceptions, then they had to first create and work from a foundation built upon truth and compassion. Many earnest conversations have occurred between them, some revealing the bits and pieces of their life paths to now, some wide-open confessions of the wounds faced from systemic oppression, and some letting go of societal norms prescribing how two women - one white and one black - lead and follow.
They consider their intentional partnership laden with honest, compassionate conversation to be a Human Library case study.
The services of Human Library Fort Wayne are free for readers, and our organizers, books and librarians (event helpers) are volunteers. However, we need your help to make our events run smoothly. Your contribution will go directly to small, diverse, local businesses who provide us with t-shirt printing for librarians, lunches and water for books, photography, printing of marketing materials, translation and interpretation for our Spanish and Burmese speaking folks, and rental of event space.
If you'd like to support a community movement for social change with high impact – please consider us for a donation - in-kind or financial. Thank you.
Want to learn more about Human Library and how you can contribute to what we're doing or receive our e-newsletter? Are you interested in being a Book, Librarian, Reader, or donor - either in-kind or financial?
We love connecting with the community. Please reach out and join our movement.
Human Library Fort Wayne
humanlibraryfw@gmail.com